Dr. Christopher Somers, is an Associate Professor of Biology and Canada Research Chair in Genes & Environment at the University of Regina.  Dr. Somers has trained Brazilian Jiu Jitsu for the past four years and holds the rank of Blue Belt.
Dr. Somers shares his journey starting Brazilian Jiu Jitsu in his 40's.
My two sons started BJJ at Complete Martial Arts and Fitness in Regina, Saskatchewan, when they were 4.5 and 6 years old. I brought them to the gym multiple times per week for classes and private lessons, entered them into tournaments, and even put them into BJJ summer camp! It never occurred to me that I should start training myself. At that time I was 39 years old and thought starting BJJ from scratch must be a younger man's game.
A special morning class nicknamed The Breakfast Club started up at Complete MMA. It was BJJ training for all levels at 6:00 a.m. The class was open to anyone, but lots of the students were middle-aged parents who found it hard to carve out time for evening classes. I was repeatedly invited by other parents to join The Breakfast Club, but frankly – I was nervous. I had done Tae Kwon Do and Kung Fu in my younger years, but I was still convinced it was too late to start BJJ.
Something else was also going on when I was 39; back pain, shoulder pain, hip pain, neck pain…everything was hurting. Surely this wasn't a good base for a new and demanding sport? Then I had an epiphany. It came one morning when I pulled something in my shoulder just putting my pants on while getting ready for work. I thought to myself: "Hell, I might as well go to BJJ and earn these aches and pains… nothing could be worse than injuries from putting my damn pants on!".
So I started BJJ in The Breakfast Club just a few months shy of my 41st birthday. I'm not going to tell you it was an immediate click. I was weak and off-balance, and grappling did not come naturally to me. I was also sore…a LOT! But the coaches and my training partners were incredibly supportive. They wanted me to learn and improve as much as I did. I stuck with It. Progress was slow, but I inched my way forward.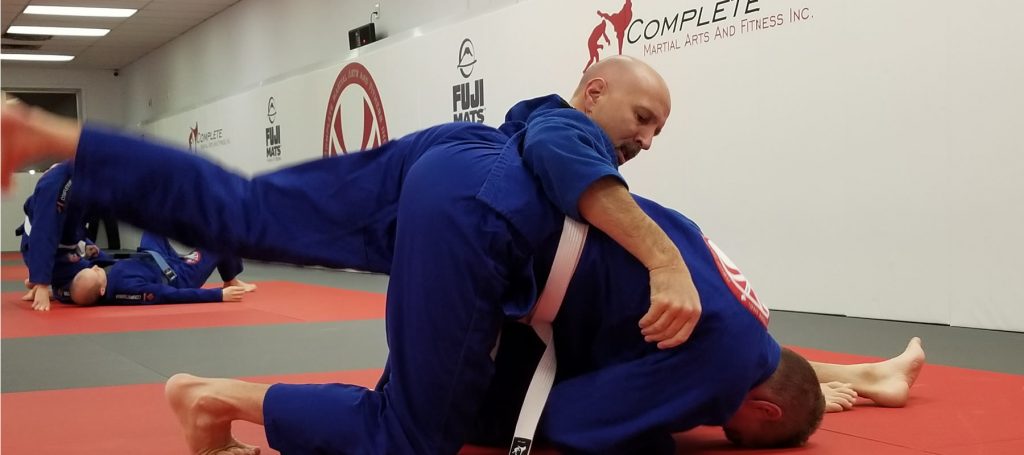 Fast forward 4 years. I am now approaching 45 and have been training for 4 years. I've learned a few tricks for doing BJJ over 40. I try to remain dead calm when I'm rolling…no thrashing around, and no big heaves to try and move people. I focus on being technical and on holding positions. Most importantly, I tap early and often. If something hurts, pulls, clicks, clunks or even looks odd, I tap. At this age its much more important to me to reset and be on the mats for the next roll, rather than try to fight through something that could cause an injury.
BJJ has also become a big part of my life. The bruises, sore muscles, and recurrent thoughts of submissions that got away are part of my routine now! My training partners have also become some of my best friends. What I love about BJJ is that everything about your outside life fades into the background when you're on the mat. Focus on techniques and sparring is intense; it is excellent physical therapy for the mental stressors of our modern world. Oh, and those aches and pains…many of them disappeared as I got stronger! I feel better now than I did 5 years ago!
My kids still train as well. Importantly, I can now train with them, and we can learn from each other. We practice technique in the basement…we roll on the front lawn…we watch MMA on TV and discuss ground technique. BJJ brings us together as a common medium in lives that can be quite divergent at times. The kids also look up to me because I am a blue belt, which means something different to them than any of my other credentials outside of the gym.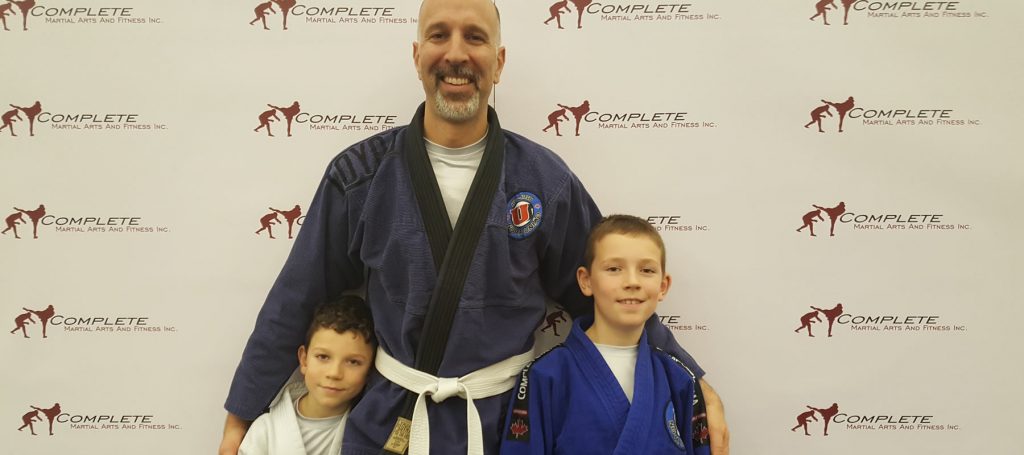 For those thinking about starting BJJ later in life – go for it! With a few strategic adjustments, you can have a healthy and successful experience that will improve your health and provide an engaging pass-time. My coach, Professor AJ Scales, said it best when I asked him about starting BJJ at 40. He said: "Of course you can start at 40; you will have a blast, and your kids will think you're so cool!". He nailed it!
-Chris Somers